The Science Behind Our Ancient Thai Remedies
Inspired by Ancient Thai Wisdom, SUDTANA's herbal formulas were passed down from our Founder's late grandfather and his ancestors. These remedies were scientifically enhanced by over two years research and trials at MIT for naturally radiant, healthy hair & skin.

Our herbs are locally sourced from our partners: farm holders from all over Thailand who share our passion and have practiced organic & eco-friendly farming techniques since their parents' and grandparents' generation. Only the purest quality ingredients are used to handcraft our self-care so our customers can discover their best natural selves. Feel beautiful, comfortable, and confident in your own skin, every day.

SUDTANA's combination of tradition and science was brought to life in an all-natural line of hair & skincare, enhanced for potency and purity, safety, and performance without any chemicals.
Our Ancient Herbal Remedies 
Our Founder's late grandfather was a well-respected village doctor. His approach to herbal medicine was to use nature to treat natural ailments — which involves a process where he walks into the forest to gather the herbs for his remedies. His herbal remedies were respected by the lives he touched — especially his granddaughter, who has fond memories of using his remedies throughout her childhood.
Here are a couple of her favorites: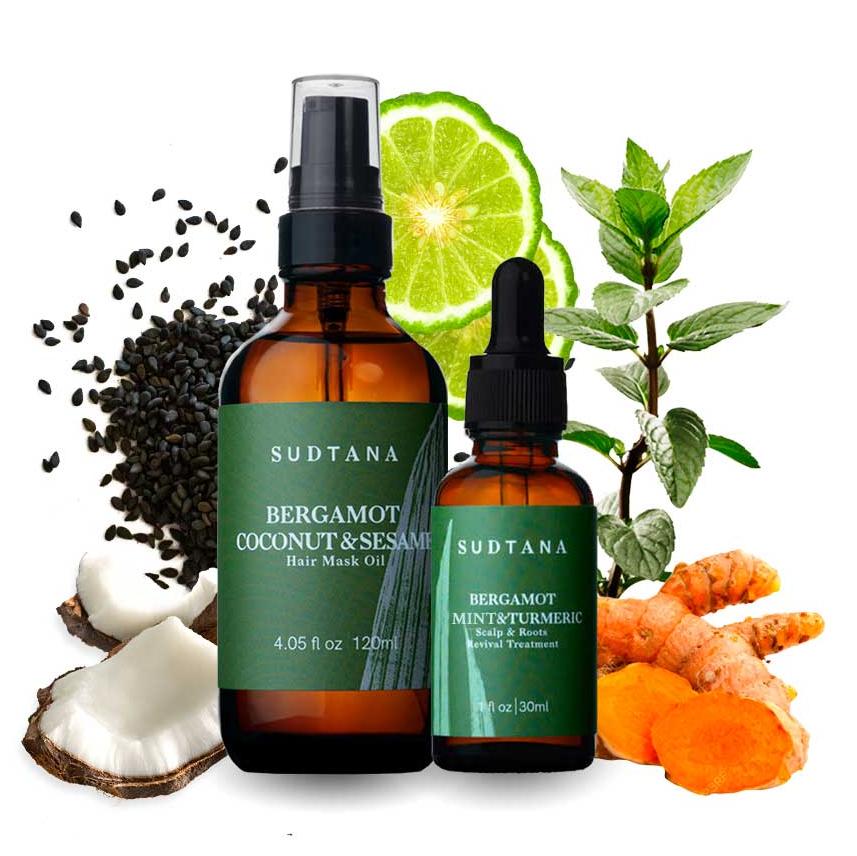 Nourishing Hair Mask Oil & Scalp and Roots Revival Treatment
Re-balance the hair & scalp back to health for optimal hair growth.
• Bergamot: Treats dandruff and inflammation with its anti-inflammatory and antibacterial properties.1-4
• Turmeric: Treat swelling and infections with its antibacterial properties as well as curcumin, a powerful antioxidant that suppresses our body's inflammatory response triggered by oxidative stress (caused by: stress, ageing & the environment).5, 6
• Mint: used to cool, refresh and soothe aches and bacterial infections and contains menthol which promotes blood flow. 7-10
• Coconut: its low molecular weight allows it to penetrate deeper into hair follicles for more effective nourishment.13-16
• Sesame: filled with vitamins, minerals, antibacterial, antiviral, and antioxidant properties for maximum nourishment.11, 17, 18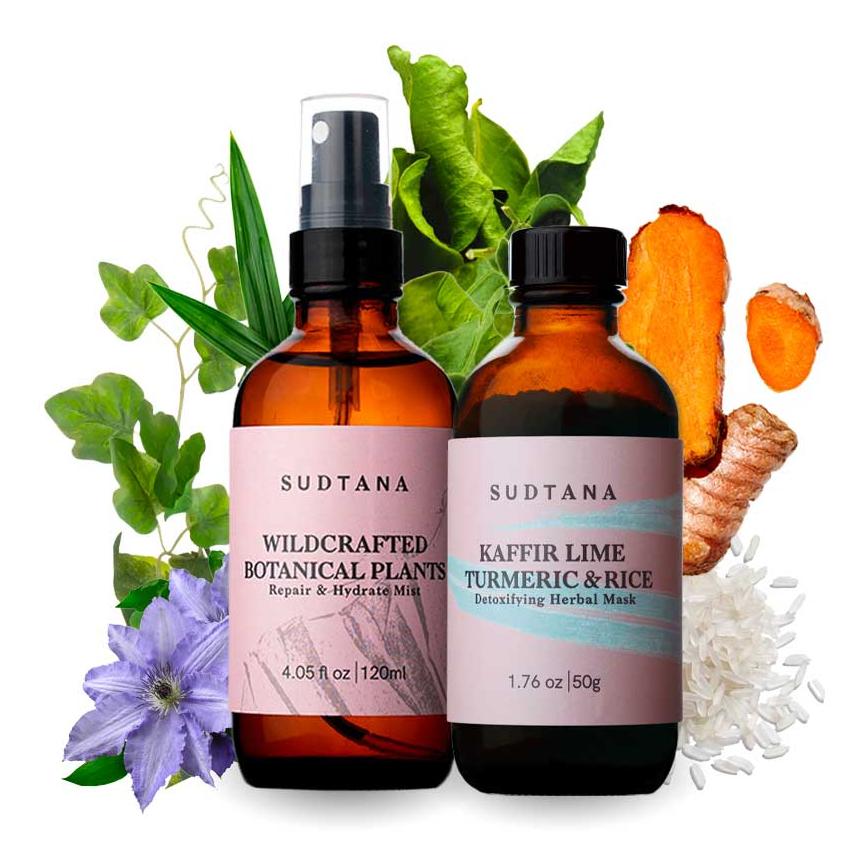 Detoxifying Herbal Mask & Wildcrafted Mist
Purify and cleanses pores from the inside out for soft, smooth, and healthy skin. 
• Kaffir Lime: Purifying antibacterial and anti-inflammatory properties reduces acne, redness and irritation while cleansing pores.1-4, 19, 20
• Turmeric: Its soothing anti antioxidant, antibacterial & anti-inflammatory properties revives skin, bringing out its natural glow.21-26
• Jasmine Rice: Reduces fine lines and signs of ageing with rich vitamin E content for naturally firm, glowing & moisturised skin.27-29
Click on them to Read More!
1. Anuchapreeda, S., et all. Bioorganics & Medicinal Chemistry Letters, 2020. 2. Kidarn, S., et all. Cogent Chemistry, 2018. 3. Purwanto, R. REAKTOR, 2019. 4. Tanzil, L. SANITAS Jurnal Teknologi dan Seni Kesehatan, 2017. 5. Proksch, E. Skin Pharm Physiology. 2013. 6. Sanchez, A. Nutrients. 2018 7. Craighead, Daniel H., et all. Microvascular Research, 2016. 8. English, Robert S. Jr. Medical Hypotheses, 2018. 9. Oh, Ji Y., et all. Toxicological Research, 2014. 10. Koyama, T., et all. ePlasty, 2016. 11. Trüeb, Ralph M., et all. International Journal of Trichology, 2018. 12. Monselise, A., et all. International Journal of Women's Dermatology, 2017. 13. Fernanda Reis, M. et all., International Journal of Trichology, 2015. 14. Rajput, R. Hair: Therapy & Transplantation., 2015. 15. Rele, Aarti S., et all. Journal of Cosmetic Science, 1999. 16. Kaur, C. Et all. Pharmacognosy Research, 2010. 17. Bankole M., et all. Afr J Tradit Complement Altern Med. 2007. 18. Jo, Seong K., et all. Annals of Dermatology, 2018.  19. Ganceviciene, R., et all. Dermato Endocrinology, 2012. 20. Christy, Ghea P., et all. Biosciences Biotechnology Reseach Asia, 2017 21. Fadus, Matthew C., et all. Journal of Traditional and Complementary Medicine, 2017. 22. Vollono, L., et all. Nutrients, 2019. 23. MCY, Heng. Int. Journal of Dermatology and Clinical Research, 2017. 24. Ghezzi, P., et all. Antioxidants & Redox Signaling, 2017. 25. Tan, Bee L. Frontiers in Pharmacology, 2018.  66. Schiavone, S., et all. Antioxidants & Redox Signaling, 2013. 27. Taamalli, A., et all. Journal of Food Quality, 2019. 28. Manosroi, A., et all. Pharmaceutical Biology, 2012. 29. Kanlayavattanakul, M., et all. Journal of Ethnopharmacology, 2016.